Sales Funnel Marketing Singapore
Boost Sales with Top-Tier SEO Copywriting in Singapore
Our 15 years of experience in SEO copywriting in Singapore ensures high-quality content that not only ranks well on search engines but also drives conversions. Engage us today and experience the results of having a website that ranks high and converts visitors into customers.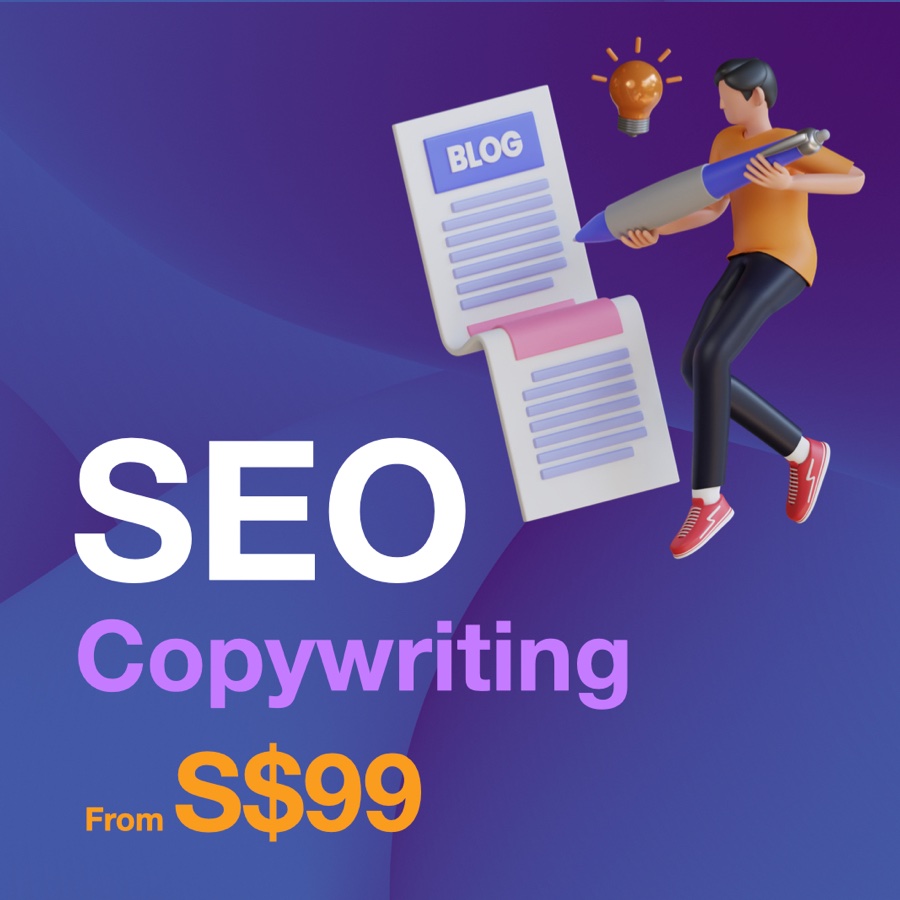 Hire the best SEO copywriting services in Singapore.
As an expert SEO technical auditor, we specialize in analyzing and assessing websites to identify potential technical issues that may affect their search engine rankings. We use our knowledge of search engine optimization (SEO) best practices to evaluate a website's structure, content, and performance, and provide recommendations for improvement. By conducting thorough audits and implementing effective strategies, we help businesses improve their online visibility and increase organic traffic to their website.
Transform Your Content into Sales-Driven Gold with Our SEO Copywriting Services
Our specialized focus on SEO copywriting in Singapore, combined with our expertise in branding and sales conversion, allows us to provide tailored and effective content solutions for a wide range of businesses. With a deep understanding of the unique challenges and opportunities present in the Singapore market, our team of skilled copywriters creates content that not only improves your search engine rankings but also drives higher conversion rates. Trust us to deliver exceptional SEO copywriting services that will help you achieve your business goals and stand out in the crowded digital landscape.
Contact us today to learn how our comprehensive approach to SEO copywriting can help improve your website's search engine optimization and drive meaningful results for your business.
If you think SEO copywriting is all about cramming keywords into your content, think again! It's actually more about creating irresistible headlines, meta descriptions, and other elements that make your website too tempting for users to resist clicking on.
Expert SEO Copywriting in Singapore
Drive More Traffic and Results with Expert SEO Copywriting
Our experienced technical team in Singapore offers customized technical SEO audits for websites of all sizes, including ecommerce sites. Whether it's project support, consultancy, or hands-on management, we can help you with various technical SEO challenges, including resolving website technical issues, enhancing search engine indexing, and adhering to the latest search engine algorithms.
Improved Rankings
Incorporating relevant keywords and phrases in website content through SEO copywriting is crucial for improving search engine rankings.
Increased Organic Traffic
Optimized content is more likely to appear at the top of search engine results pages, leading to more organic traffic to the website.
Higher Conversions
Crafting engaging content that resonates with the target audience is key to increasing conversion rates and turning website visitors into loyal customers.
SEO Content Copywriting Services
Engaging, SEO
Optimized
Content
Our team of expert writers in Singapore is dedicated to crafting captivating and compelling SEO copywriting that resonates with your target audience. We specialize in creating high-quality content across a range of formats, including article rewriting, article writing, creative writing, and blog posts.
Why SEO Content Writing Is Critical for New Websites or Website Redesigns
SEO content writing is especially important for new websites because it can help you establish a strong online presence and attract more visitors to your site. Here are a few reasons why SEO content writing is essential for new sites:
Full Range of SEO Copywriting Services
Our Expertise in Various Types of SEO Copywriting
At our company, we understand the crucial role that SEO copywriting plays in the success of any business. We specialize in crafting compelling content that not only boosts brand awareness but also drives traffic to your website and improves your SEO metrics. Our comprehensive SEO copywriting services cater to a diverse range of content types, including blog posts, landing pages, social media content, website copy, and much more. With our expertise in various forms of SEO copywriting, we can help you achieve your specific marketing goals and set your business up for long-term success.
Hire Expert SEO Copywriter in Singapore
Maximizing SEO with Expert SEO Copywriting
Experience the power of our affordable, high-quality content writing services in Singapore that are SEO-driven, engaging, and capable of delivering results. Our team has extensive knowledge and experience in the Singapore market, ensuring that we can provide content that resonates with your target audience.
Singapore SEO Copywriting Pricing
SEO Copywriting Plans and Pricing
Looking for the most affordable SEO copywriting solutions in Singapore? Look no further than our services, which promise unparalleled and long-lasting results. We specialize in creating and distributing unique, impactful, and engaging content to help businesses stand out in today's digital landscape. Quality content is crucial for driving engagement, adding value to your website, increasing traffic, and improving SEO rankings. Let us help your business achieve its goals with our top-tier SEO copywriting solutions.
What's Included in our SEO Copywriting Services
Website Content
350 Words. For landing page, about us, etc
Subject/Industry Research
Short Article
350 Words. Best for FAQ, Short Article
SGD
199
Article 300 Words
Subject/Industry Research
Long Article
1,000 Words. Best for Long Article / Blog
SGD
399
Article 300 Words
Subject/Industry Research
SEO Copywriting Service FAQ
Frequently Asked Questions
We've answered some common SEO Copywriting services questions below.
Feel free to reach out to us regarding any SEO copywriting questions you may have before placing your order.
Our sales and support team work 24/7 and are delighted to answer any queries you may have.
Talk to a SEO Copywriter in Singapore
Expert SEO Copywriting from
Singapore
to the World
Our SEO services are based in Singapore, and we are proud to have grown alongside our clients in the local market. With over 15 years of experience in optimizing websites for search engines, our highly reliable team prioritizes user experience and adheres to industry best practices to improve your website's search engine ranking. In addition to standard SEO services, we offer bespoke web design, customized solutions, ongoing support, and a dedicated account manager for clear communication and client satisfaction.
Start with a Free SEO Consultancy
If you're targeting the Singapore market and seeking to boost your website's rankings and outperform your competitors, an in-depth SEO audit may be the key. Reach out to us today to find out more about our transparent SEO services and how we can assist you in enhancing your website's ranking.